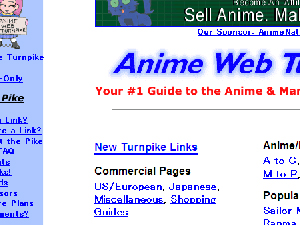 The Classical Era
The history of Anipike can be roughly divided into 3 eras. The beginning of each new era is marked by a re-launch of the website. With the coming and going of each new era, the website experiences both internal and external changes, but before all the new and shiny interactive features, before all the achievements and crashes, there was just a small, hand-coded HTML page...
In the Beginning
In the beginning, when the Net was still young, and the anime/manga fandom was anything but a niche market where the Geocities/Angelfire sites were maintained by a small number of dedicated fans, it was hard for fans to keep track of all the "good" anime-related websites, as well as newly created fan sites. One day in August of 1995, Jay Fubler Harvey decided to start a project, "a project to provide a place where everyone could find anime and manga links in a simple and efficient manner, regardless of browser." And so Anime Web Turnpike, better known as Anipike to the fans, was born.
Back then, there was already an anime search directory set up through the University of Waterloo's anime clubs site, CTRL-A. Anipike based its design on the directory, but implemented a vastly improved design and provided regular updates.
At first Anipike was small, and everything was handed-coded in HTML. As words of the new directory site spread, soon authors began to submit their links. With "listing all the anime pages on the 'Net" as its sworn duty, nobody was left out of the ePike bandwagon. Before long Anipike had become the premier anime link directory, with its mascot Trixie Turnpike appearing on a majority of other anime and manga sites.
The 1996 AniPike Contest
As a sign of its significance in the Anime community, in 2006, Anipike sponsored the 1996 AniPike Contest, with an anime prize collection of over $2,000, it was arguably the biggest anime fandom contest sponsored in the U.S. up to that time. Sponsors included A.D. Vision, Dark Horse, Manga Entertainment, The Right Stuf, and more. 115 fans entered to answer 101 anime/manga-related questions. In the end, Ryan Gavigan walked away with the Grand Prize by getting a high score of 97 points.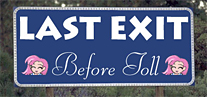 Last Exit Before Toll
The link directory is not Anipike's only feature that attracted people, there were a slew of interesting columns and other contents that provided visitors with insightful views on Anime.
In May 1997, Ryan Mathews began his famous "Last Exit Before Toll" column on Anipike. Every month, with the occasion help of Anne Packrat, Ryan Mathews talked about some random anime-related topics, looked at high quality websites of a particular theme, and answered a few fan mails. With more and more low-quality Geocities/Angelfire sites popping up like mushrooms, Last Exit Before Toll proved to be an invaluable source to introduce 'Pike visitors to websites worth visiting, with topics ranging from "Pokemon Sites" to "Fan Voice-Acting Pages."
How did "Last Exit Before Toll" start? According to Ryan Mathews' farewell entry:
"Last Exit was not originally intended to be an editorial column. When Jei approached me in 1997 and asked if I'd like to review websites, it was meant as a solo replacement for a failed 1996 project, in which several of my friends and I would each pick a website, write a detailed review, as well as quickie reviews of each others picks. It was meant as a weekly project, but was quickly shelved after about three weeks when it became clear that I was the only one with the will to stick with it."
So where did the name "Last Exit Before Toll" come from?
"The name Last Exit Before Toll came from a sign on Interstate 480 in Cleveland. It warns you of your last chance to avoid getting on the Ohio Turnpike, the highway that gave the Anipike it's name. The idea is that my column would give people a shortcut to some good sites, thus avoiding the "toll" of browsing the Anime Web Turpike by themselves."
With the rising popularity of Anipike as the web's premier anime website directory, it became a special honor and a blessing for someone's site to be featured in "Last Exit Before Toll."
"This is the hardest sentence I've ever had to write: I'm retiring Last Exit Before Toll. It was a difficult decision, but one I had to make. I just can't do it anymore." - Ryan Mathews
On November 2002, "Last Exit Before Toll" retired after 5 years of operation. The main reason behind its closing was due to the amount of work involved. With more and more time needed to devote to each month's column (it usually takes a week to prepare each column), real life works, and difficulties with the re-launched Anipike, the Editorial Column became more of a burden than a hobby. Even though "Last Exit Before Toll" closed down, its spirit of reviewing, presenting high quality websites lived on as other sites begin to sponsor similar features, one of the most notable was AnimeFringe's annual website contest "Animefringe Top 25" (which unfortunately closed down in 2005 with the end of AnimeFringe).
Old "Last Exit Before Toll" articles can still be found on Classic Anipike's "Last Exit Before Toll" archive.
Other Features
"Last Exit Before Toll" was not the only trick up Anipike's sleeve, along with "Last Exit Before Toll", there were some other columns and features that introduced fans to interesting and popular websites.
- In Jei's Picks, Jay picked out what in his opinion were the top anime sites in selected categories.
- Nikkou's Choice introduced visitors to Nikkou's favorite sites, or in Nikkou's own words, "a not regularly updated list of sites Jei let me put up so people would stop e-mailing me about what sites to go to for whatever it was that happen to be their interest."
- Last but not least, the irregularly updated Guests' Web Picks that was started in 1997 had anime fans of all kinds spend time to share about themselves and what they liked online.
Awards Received
Throughout its history, Anipike received many awards, below are just some of the awards the site received in its early years:
1996 March - MacUser's 101 Must-See Sites
- 1996 July - Featured Site for the month of July '96 by Animecca Magazine
- 1996 November - ExciteSeeing Tourstop
- 1996 November - CLICK Cool Site Award!
- 1996 November - Positive Boote Award
- 1997 January - Site of the Day by Animecca Magazine
- 1997 January - NetGuide Gold Site
- 1997 February - Golden SkernPike Award
- 1997 April - Tatiana Award of Excellence
- 1997 May - Otaku Award of Excellence
- 1997 June - PS SM DJ NS CA Site of the Day
- 1997 August - Red Rock's Screw U Award For Excellence
- 1997 September - Warpzone Gamers Center's Golden WarpPipe
- 1997 - Ferrarotech Honors Anime Web Site of 1997
- Suite 101 Recommended Site
- "Best of Campus" Award by the Internet Board of Members Discount Link, Inc.
- Asenteck top 5% Design Award
- Sailor Stars Good Moonie Award
- 5 Stickers from The Sammy Award
- Anime Lovers Award
- The first ever animeXcellence award
- The Ayanami Award
- Way Cool Site award
- Animetropolis Best Free Site
- 5 Stars Anime Star Award
For a full listing of its awards and honors from the "Classic era," visit here.
A New Challenge
The Anime Turnpike was a hit, partly due to its useful features and frequent updates, and also because it was the only link directory resource fans had at the time. For a long time, Anipike would sit on top of google search result of anything Anime-related.
However, as Anime/Manga slowly gains popularity in the U.S., other Anime websites rose to challenge Anipike's position as the King of the Hill. To make matters worse, search engines such as Google and Yahoo! are becoming more efficient at finding desired results. Some users began to doubt Anipike's usefulness and its position as the #1 Anime site. As the web grows with new technology being developed, Anipike will have to rise up to face its new challenges.