Ed Chavez and Jarred Pine
About MangaCast
Please introduce yourself, who are you, what do you do?
Ed: Basically when I am not working at my non-profit event facility in an urban National Park, I am a full-time baseball and soccer fan, full-time manga reader and part-time podcaster. I have been reading manga translated and raw since the late-80's. Over the years I have collected a few thousand volumes of manga covering a good range of the spectrum of manga. In the last few years, I have taken my love for manga and put my thoughts/feelings into reviews mainly volunteering my time at AnimeOnDVD where I have more than 400 written reviews and I maintain the Manga Comparison Charts.
I began podcasting in 2005 with my personal audioblog NaniwaNews. And in July of 2005 I collaborated with AoD conspirator Jarred Pine to put on what we think is the first podcast solely dedicated to manga. We have reviewed more than 275 volumes of manga and recorded almost 300 episodes reviewing and discussing manga together with the help of a handful of manga loving volunteers.
MangaCast was created around a year ago, what was the reason for creating it? What goal did you have in mind, and has that goal changed over time?
Jarred: I'll defer this one to Ed as he actually was the one who created the community and started the podcasting.
Ed: Yeah it was a year ago, July 21st. The reason was simple, I think Jarred and I wanted to create a place to talk about manga. We were already doing so in some context at AnimeOnDVD, but I didn't feel the manga dept. ever really took off in a way that was representative to how manga was growing. At the same time I was doing my own politics podcast, and after Jarred picked up on the medium, we both came to the conclusion that we could create a place to basically audio blog (podcast) our thoughts. Nobody else was really talking about manga.
There were reviews on anime sites and there were a couple bloggers out there, but as podcasting was just getting its footing, no one was literally talking about it. We knew we could do that. We had manga to talk about and we had opinions about the industry. It was very spur of the moment, caught up in the romance of new media, but that's how we started the MangaCast and SAMAcast. With the MangaCast, we started with SDCC, moved on to the reviews and our roundtables, and then went to the Maki. It was a natural progression to where we are at today.
How has it changed? Well, while we wanted to be more of a news site, I don't think that ever really got momentum. We really tried for a while, and then I found others did it better. What we did best was commentary. And I think we both found that more people enjoyed listening to us go Thursday Night Publisher than they did reading our thoughts about press releases and random statistical data. We almost always got that info from places like Love Manga, and David there just has a better way with words. So we stuck with the reviews and commentary, we added some other content, provided release info (readers seem to enjoy that) and we have decided to grow/develop from there.
Why podcast? How does centering a manga community on podcast differ from other manga communities?
Ed: Heh. Why not! Seriously, the closer you get to your audience the more they take your words seriously. Jarred and I often joke on our podcasts. We are very casual and that doesn't come through on your screen in a blog. The same can be said for print, so when we are going nuts over DragonHead (from TOKYOPOP), a podcast listener can hear the passion. Listen to a review from Jack about Kekkaishi. Then listen to another one from me. Same manga, same positive views but being able to get those changes in tones and the laughter and joy in your ears is something else. It is more personal in my opinion and therefore much more meaningful.
It's very different. Readers can just check into a site, skim through and go. The internet is perfect for that type of thing. Manga itself is much more than that. You cannot just skim. You need to read, check the art, and check the layout and feel. A podcast forces people to:
a) Subscribe. If you want to get all the juicy bits you need to commit. You can give up later but while it's good you stay signed up.
b) Download. Once again another active thing, I have received a few dozen emails over the year about people wondering where the reviews are. I have to respond and tell them... "You have to download by clicking that button." We get more direct downloads than subscription downloads. So people are definitely picking and choosing, which is great 'cause manga is like that as well (not everything on the shelves is worth reading/listening :( ).
Jarred: What really got me interested in the podcasting aspect of the MangaCast when Ed started it was that you just didn't get that type of discussion about manga anywhere. I also didn't have to sit at the computer and read long pages of text, which I already do for my day job and get enough eye strain that way. With the podcasts, I could load them up on my iPod or other portable media device and take them with me on the bus, on a jog, wherever!
As the MangaCast has progressed, you can see some of the cool ideas that we've come up with surrounding coverage from cons, roundtable discussions, or interviews. So now, you can get audio content that is not just about a particular manga title, but rather information on the industry itself as a whole.
Was the name MangaCast there from the very beginning, or were there other names you came up with? If so, care to share a few?
Ed: I believe MangaCast was it from the start. I might have to go to my personal LJ files. It's up for anyone to see I believe. But Jarred and I tossed the idea around there and I think he came up with the SAMAcast there too.
And the names purpose is obvious because its a Manga (Pod)Cast.
Jarred: The name MangaCast was decided upon after long late night discussions that took months to complete. I mean, it's so complex!! Haha.
Why did you choose Live Journal instead of another service like Blogger? Did the fact that MangaCast was on LJ affect its growth or audience?
Jarred: Honestly, because it's free and it already had the RSS feed functionality as well as the whole community aspect. We both were already using LJ for our own personal blogs, so it was the easiest step. We took the path of least resistance, it's the yanki way!!
Ed: Well this is something we have just recent been asked about a bit. We started there because we were both on LJ already. We were familiar with the service and we had a base of friends to tap into. Blogger seemed too foreign to me, and WordPress even more so (even though it did have an enclosure feature for podcasts at one point).
I have never been computer/net savvy. So I went with the easy way out. I have to say it was a cute idea. But we really don't know what our audience is. We have more than 150 readers on LJ and more than 100 members, at the same time we have around 150 subscribers on average. We don't know if the 150 readers are all subscribed or not. We sure know we have more listeners than that, and we know now that it has definitely hurt our "cred" (whatever that means in the blogging community).
Has there been any major obstacle that MangaCast has faced, is facing, or could face in the future?
Ed: Really, the biggest hurdle has been getting people on board with this project. Podcasting is an active passion. When Jarred and I started this, we wanted to get as many reviewers on the network. So far we have only succeeded in keeping a few. There is very little fanfare, and it doesn't pay well. If we didn't use free services - servers for the audio, software for editing audio, and blogging tools - we possibly would have given up. The fact we get more review copies has kept us going because we feel publishers are listening to us. So that gives me motivation.
I think the fact that we are still in a funk in regards to reviewers could end up hurting us in the future. Burn out, lack of time, lack of resources could be our downfall as we begin to get more books to look at. Sad to say that with 3 senior staff members and two more contributors, we really cannot cover enough manga to give people a proper sample of manga. We cannot give the publishers, which are in a strange way giving us life, the timely looks at the work they have done.
Jarred: The biggest one is obviously just getting people to subscribe to the podcast or LJ feeds. I think a lot of people don't take us all that seriously because we are a LJ community, so we are looking to address that in the immediate future. The other thing obviously is just finding the free time to record! We all have full-time jobs, write reviews for other online publishers, and have lives outside of manga. Trying to squeeze in the time to record can become frustrating.
MangaCast has come a long way since its creation, what's the future for MangaCast?
Jarred: World domination, of course! I really have no idea what the future holds for MangaCast. I've always been the type who can barely figure out what I'm eating for dinner tonight, let along plan for the future! So from my perspective, it's just keep doing what we have been doing and improve on things and just get better. It's the sports manga way!
Ed: We are working on a new look for the place, and we are trying to expand on our content.
Jarred and I have some crazy ideas. Some totally crazy (the ones you hear on our Maki), and some so ridiculous we cannot even talk about, but right now we are just sticking to the organics (keeping things simple but letting time naturally develop this project). It's good for the body and soul.
About MangaCast's Content
Please introduce yourself, who are you, what do you do?
Jarred: I'm a software engineer by day, manga critic for AnimeOnDVD.com and podcaster/content blogger at MangaCast by night. I also enjoy sports and having long curry eating sessions on the beach.
First anime: Akira
First manga: Blade of the Immortal
Aside from podcasts, MangaCast also offers other goodies such as JP Manga Releases, Top 10 Rankings from Taiyosha, and more, what's it like doing all these things? Busy? How are these different features being put together to provide a fuller experience to the visitors of MangaCast?
Ed: These features you have listed are a part of that organic curry viking we have here at the MangaCast. If you don't know what a viking is, it's basically what the Japanese call an all-you-can-eat dinner. As I noted above, we initially wanted to do more news content. We kept what worked - the Taiyosha rankings (basically the otaku rankings) and some others. I then started to do release info and then asked for responses on how to best present them. The fans wrote back and I listened. We keep it simple by not doing much more than that. If there is another magazine/publisher people like to see, they write me and it goes up. Very simple.
I feel this gives fans a taste for what is down the road. They can see what sells in Japan. What is running there is what will eventually be running here or in Spain, Italy, Germany, France or Mexico. If they can see what is coming they can be active in the process. They can demand the titles at cons or in surveys. It empowers the readers, and I think the pictures make for another addition to the experience.
It can be busy. The translation, which can be tricky with funky names and strange titles, can take up a lot of time, especially so for some of the more obscure publishers. But it is worth it. It keeps me in the know, so I'd be using the info myself anyway :)
Jarred: I think Ed Chavez is really an alias for a collaborative group, like CLAMP. I mean, how else can you manage all that information! I'm always impressed with how he stays sane, but it's seriously just his love for manga that keeps him going. That and the curry I feed him through the bars of his cage.
Was there any feature that turned out particularly popular than originally expected? Was there anything that was planned but didn't make it onto the site?
Ed: The Manga Curry no Maki. By far that was much more of a hit than we thought. We did roundtables before, and they were doing okay, but reviews for titles like High School Girls and Nausicaa were blowing those away. Now the Maki is downloaded quite a bit, it even has its own hardcore curry fan that types in with cooking reports after every show. What is so ironic about this is how we really are just talking. We hardly edit anything, mainly add music and go. I cannot tell you how many times people write in and say they feel as if they are listening to a conversation with friends about manga. That was exactly the point... Especially with the WORST segments :( .
I wanted to do a manga news show. I think I did one back in Sept or was it August of 2005. It was long-winded and didn't give anything more to the site than what was already being posted. I gave up quickly. Once again, leave it to the pros. Brigid with Jack do a much better job than I can at that.
Jarred: We've gotten pretty good response to the Manga Curry No Maki segment, which I'm happy about. This is something I would really like to see take off as I think it provides a cool way to discuss those topics in the manga world that aren't exactly about a particular title. It's the battle of the manga minds, like L and Light.
There are always things planned that don't make it into the site, usually just due to time. Maybe we'll see some of them show up in the future.
MangaCast has done a great job covering this year's SDCC, want to tell us how it was all put together? What kind of trouble did you have to go through?
Ed: None. No troubles at all. I got a press pass (thank you AoD!!!). Asked around if it was cool to record (some people knew it was coming ahead of time, which is always a plus), and then ran off to the press room. Getting the audio right was tough, because of mic placement and poor seating, but the biggest problem was cloning myself to hit all those panels and interviews.
Actually, the toughest part was my having to decide what to leave on the cutting room floor. There is still around 45 min more of audio from SDCC 2006 somewhere. Some was quasi-confidential and others were really silly rants from the actual show floor itself. Maybe next year we will do something different. Maybe do a members only MangaCast insiders thing to get all of that out to people. Ha.
Jarred: Ed did a great job, didn't he? I never knew fruit leather and power bars could really sustain a person for the entire 5 days of chaos.
Tell us a little about the Yomis, it's one of the first manga award event in the U.S. how did the idea came to you guys?
Ed: Completely out of the blue. I think I just tossed the idea around to Jarred and to a few members of the MangaSphere and it was done. We all wanted it to happen; we knew something like this would eventually happen. Jarred and I just decided to do it. No one did a manga podcast before... done. No one gave manga awards in the US... done.
I heard the first Yomis was rushed, was there anything that didn't make it into the award because of the tight schedule?
Ed: Sure. And this pains me because I felt I let people down in a way. I wanted to have a couple more categories. A "best new pub" category was tossed around by Jarred and some others; I couldn't do it in the first award. I couldn't do more specific categories because the nominating process would have been impossible to sort through. I also wanted to get the final judges review copies. But I didn't have the budget and I didn't have the time to lobby support from the publishers. That really was embarrassing because some people had a hard time finding some of the books, especially the shorts and global titles.
Jarred: I know that we really wanted to get some more people into the nomination process and judging, especially people with industry cred. But since we were such newbies and this came off so quickly, it just didn't come together. Hopefully next year the Yomis will be something that a lot of people getting excited over.
In the Yomis, first the readers vote for nominations to their favorite category, then a panel of judges decide on the final winners, how did the whole process go? How was the award received by the fans?
Ed: Amazingly well. I almost thought I was going to scrap the project. But the fans came through. The MangaSphere really helped with that, and the judges provided more than I needed. A few of them even wrote me about their opinions of the nominees.
The fan reaction was all over the place. I thought that was perfect. Definitely a mixed up... a Maki'd response. The results were tight for most of the races and while some were predictable, I thought the winners and nominees were all deserving. Best of all I am glad I did not vote because the results would have been different and I could not face more controversy :P
Jarred: Overall I thought the judging process went really well. The biggest obstacle I think with fans and the publishers was that we just didn't have any credibility. Again, this has to do with being a LJ community and not some full-fledged recognized website brand or whatever. I think with the impressions Ed made at SDCC 2006, we'll begin to get more people into getting excited about the Yomis next year.
What should we look forward to in future Yomis?
Ed: Hopefully I'll be able to get the process started immediately after NYCC 07. And if all goes well there will be a ceremony. Jarred said only Yanki trench coat suits with haramaki and hackimaki allowed. I expect Stu Levy to come to the show on a custom bousozkou motorcycle like teenage Onizuka to the blood red carpet. Just kidding, but I wouldn't put it past a manga revolution leader. :)
Jarred: Ed performing a choreographed Yomi Yomi dance at the SDCC 2007 Yomis panel!!
About Podcast
So far Mangacast hosts the following padcasts: MangaCast, SamaCast, Manga Recon Show, MangaTheory, Manga Curry No Maki, Maki Side Dish, MangaBlogCast. Care to tell us a bit about each of them, and how they differ from each other?
Ed: The MangaCast themselves are individual volumes of manga reviews. You might get two reviews in a volume but the MangaCast is plain vanilla... wait not plain with Jack and Jarred... French Vanilla Bean. Simple, sweet and with a tang.
The SAMAcast was actually its own podcast. Jarred and I combined our forces full time and the SAMAcast covering Sports Anime and Manga came on board. Lots of blood, sweat and beef in this podcast. But when we take on Prince of Tennis all of that changes into a strange mix of I don't know what.
MangaRecon is a project of Erin Finnegan from the Ninja Consultant podcast. She was doing this in written form for Buzzscope.com. I hear she listened to the MangaCast, and took the call to join the network. Basically the show is a collection of reviews. I think Erin took me to heart when I said I wanted a MangaRecon done entirely in pen (as was done for her review on Life). I think the print version of the next Recon from JarEd Publishing will be out sometime next year.
MangaTheory was a project with a friend of Jack's named Tristan. The man is a manga scholar in many ways. He was perfect for the MangaCast. Unfortunately, Tristin and his MangaTheory left for Japan earlier this year. Work and time constraints prevent him from recording much.
Manga Curry no Maki = Manga + Curry Mix/Wrap. Jarred and I talk manga, and we don't stop until I start talking about curry. Tastey but as some have found out spicy!
Jarred: The SamaCast was really my idea for doing what Ed was doing, only with sports manga and anime specifically as a theme. I'm a huge fan of sports and especially all the manga/anime out there. I really started it to maybe bring some attention to the genre, as I think it's a very much underappreciated genre in the English market. There are sooo many good sports titles out there that have yet to see the light of day here in the States.
I don't do much of the separate podcasts anymore, but we wrap up a Sama Samosa segment into the Maki where Ed and I chat about a sports title.
Why is the SamaCast done with "Innings" (Baseball)?
Jarred: Because you can never have too many puns and bad jokes! Given the sports theme, it just fit.
Ed: How did that work? The SAMAcast is a sports manga podcast so it made sense. Playing a 20+ inning game might sound nuts but as a baseball fan I would love to pay for more than 9 innings.
Manga Recon Show is done by Erin from the Ninja Consultant, how did this deal come about?
Ed: I think Erin brought it up and I basically could not refuse. I mean who could refuse a ninja. My life was at risk.
Where did the name "Manag Curry No Maki" come from? And why is there a Side Dish?
Ed: Ahhh. That should have been posted in a special podcast, took Jarred almost 45 minutes before the first one to come up with a name. It was some stupid fun times. Booze and coffee and some Rancid (was it pre-Epitath or not???). But the inspiration was Addicted to Curry. We both are... Addicted to the manga and to curry. We almost wanted to make the Maki (the mix/the wrap) a variety show of sorts. Talk up manga. Talk up some news. Talk up some cooking and leave with some music.
The Side Dishes are a must if you have curry. So to compliment the manga and curry culture we occasionally talk up whatever comes to mind. We have done cons. We go on location at manga events/exhibitions. We talk about anthologies. Its more of a manga blog than anything. However, I think it is essential when you need something to hold you over for that next full course of Maki goodness.
Jarred: We love manga, we love curry, and I think Maki is just a play on the word for mix or something. One of Ed's favorite titles is Addicted to Curry, and we just thought it would be funny to have a curry theme for a recurring podcast show. With the recipes at the end, it just makes it a bit more of an interactive experience I think. Please! Send us photos of your curry creations!! (And any samples!!)
Any future podcast plans?
Ed: Nothing official, but we are working on a strange project called the Vengeance Trilogy. It is currently only focusing on OldBoy but I think that with more mature manly men manga, this could end up being a regular series.
We will be podcasting from YaoiCon this October and I am working on plans for another trip to NYCC. I thought a trip to Winter Comiket would be out of the question, but right now I might consider it, though I have to talk to Jack, Jarred and Erin about this.
Jarred: We've been really busy lately with Ed going to Japan and myself bouncing around temporary housing waiting for the permanent home to materialize at the end of the month, so I hope once we are settled back into the groove we'll get the Maki back up and running on a more regular basis.
I'd also like to see more collaborative podcasts in the future, like roundtables or group interviews, like you would expect from a radio show. We just want to deliver some good content out there to all the readers and listeners who make this thing possible. All 29 1/2 of ya!!
Other Staff
Erin
Please introduce yourself, what do you do, and how did you become a staff of MangaCast?
Erin: My name is Erin. I don't use my last name in podcasting land in order to separate my professional life from my life in fandom. In real life, I work in animation - specifically I'm the Production Coordinator on a show currently airing on Cartoon Network.
I became part of the MangaCast staff when Ed Chavez left town one week and asked for other people to submit content. I had recently started writing a manga review column for a website associated with Midtown Comics and I had started my own podcast, the Ninja Consultant show. I wanted to incorporate content from my review column into Ninja Consultant, but there wasn't really room for it in the scope of the show. I had been kicking around the idea for a spin-off show and Ed's vacation was a great catalyst.
Please tell us a bit about your Manga Recon podcast.
Erin: The Manga Recon podcast is just me reading reviews I've written for my monthly manga review column on popcultureshock.com. In the podcast I will often throw in addition comments that didn't make it into the column. Sometimes if I've watched an anime of the manga I've read since I wrote the column, I'll add some comments about the anime. If there is a long stretch of time between writing and recording I will sometimes have more to say about further volumes of the same manga series I've read in the meantime.
Please tell us how you make your podcasts, what program do you use? How do you get it on to the Web? Is it difficult?
Erin: I use a condenser mic, a mixing board and my G4 Powerbook to record and I edit in Audacity. I ftp the completed mp3 files onto my website and write the show notes in Livejournal. Livejournal has its own RSS feeds. I bought an account on feedburner.com which looks at the livejournal posts and automatically generates the podcast feed. It sounds more difficult than it is. Podcasting is much easier now than when I started in July of 2005. I used to write my own XML code for every entry.
What are some of the advantages and disadvantages of distributing information through podcast as opposed to simply displaying the information a screen?
Erin: Podcasts are inherently more portable - you can listen to them in your car or on the subway or while working out. I listen to podcasts at work when I'm doing a very repetitive task. I can't read the internet while I work, but I can listen to podcasts. There's also something inherently more personal about listening to podcasts - you can tell a lot about a person from the sound of their voice that doesn't always come through by just reading what they've written.
One disadvantage is that subscribers expect new content very frequently. Podcasting is a time-intensive hobby, so it's difficult to release new content on a strict schedule. Usually it's just one or two people putting together a podcast. If one of those people get sick or lost their voice or have to move over the weekend, their podcast is such a low priority that it gets passed over in favor of more important things.
I listen to a lot of podcasts and it seems there are two basic kinds: Podcasts which are almost entirely unedited but are released on time, and podcasts which are more heavily edited but are released infrequently.
What's your opinion on how MangaCast has developed throughout the year? What would you like to see in the future?
Erin: The organization of the MangaCast community has been cleaned up a lot - the Livejournal tags are a big help! I enjoy the spin-off shows like the MangaBlog cast and Curry No Maki. I wouldn't mind if Ed's reviews came out less often if they were edited a little more, but he is doing much better than in the beginning. I look forward to even more improvements in the future!
Any interesting stories you would like to share?
Erin: I got to meet Ed at New York Comic Con. He said he would be wearing an "Osaka Buffalos" baseball cap. I had no idea what that might look like! When I figured out who he was (the guy with the iRiver, obviously) I discovered that the logo for the Osaka Buffalos is really abstract. I also discovered that Ed is a baseball otaku (and a train otaku, and a pachinko otaku...)
What's the future for Erin?
Erin: Unemployment! Seriously my TV show is wrapping up and I'm going to need to find a new job next year. In the meantime I hope to visit Japan for Winter Comiket (Comic Market 71) and visit Akihabara before returning to NYC to look for more animation work.
Jack Tse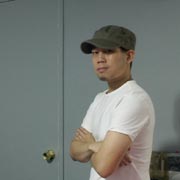 Please introduce yourself, who are you, what have you done before coming to MangaCast?
Jack Tse: I'm basically a representation of an average male manga reader. I like talking about manga just like everybody else and that's how I came to be a podcaster. My background was in art and design and I just fell into it when I volunteered to help out Erin and Noah from ninjaconsultant.com with some web stuff. (Erin's Manga Recon is cross-posted to MangaCast.)
Likes/Dislikes:
Jack Tse: I like originality and personality. This can be applied to anything but specifically in Manga - I like it when an author shows me something different. It doesn't have to change the manga industry but little concepts here and there really make things come alive. I try to apply this tom my work as a graphic designer. A poster I design may not change the world but it has something in it that people might not expect.
How did you become a part of MangaCast, and what do you currently do there?
Jack Tse: My original connection was when I reached out to Ed to ask him a technical question. He helped me out and that's when we began a dialogue. Eventually it culminated by me reviewing my favorite series Love Roma on a whim. Right now at MC, I am a: reviewer, MangaBlogCast host, and provides one-off original podcast episodes (like top 10 lists for example).
It's been a few months since the launch of MangaBlogCast, what do you think of it now compared to the first installment of it?
Jack Tse: It has improved overall. Brigid now tries to contribute audio in every episode and I am more comfortable injecting more humor and personality into the show. The concept of it has not changed though - intelligent reporting of manga news presented by an amusing host.
What's the future plan for MangaBlogCast?
Jack Tse: To grow the listener base and get the word out that it exists. As far as I know we present a unique, quality show and if I'm interested in this... others are too. Something that I've floated in my head is to have a guest host - but this won't happen until I've proven that nobody can usurp my throne as the best MBC host in the history of mankind.
How do you get your podcast on to the Web? Is it difficult?
Jack Tse: I pass this question to Ed. He manages the podcast so he deals with specifics such as uploading, publishing and distribution. The gist of it is you have a content management system that can create a feed. The feed will have tags for audio and you submit that feed to iTunes and other podcast directories. The end user has a client that plays the feed and updates it for them.
Please tell us how you make your podcasts, what program do you use?
Jack Tse: I use Apple's Garageband and a Samsun microphone on a Dual G5 PowerMac. What actually makes a show is the writing though. For basically every show I do it comes down to making talking points and expanding upon them when recording. As for thinking up talking points, I research them and try to say something interesting or say it in a interesting manner. MBC is a different animal all together because Brigid writes it but my goal is to complement her opinion with my own opinion. I find that it fleshes out the topics much better.
What are some of the advantages and disadvantages of distributing information through podcast as opposed to simply displaying the information a screen?
Jack Tse: The biggest advantage of podcast is that you can listen to them while doing something else. Listening while working, exercising or during transportation... are all reasons why podcast popularity in general have exploded this year. The disadvantages are in production and distribution. When you're finished writing for the web is often where you begin for a podcast. Thanks to Apple it's getting much easier but it's several steps more complicated than just writing something. In terms of distribution, it's easier to get eyes on a web page over ears on podcast. To listen to something you have to have certain software and hardware, so it's a step more difficult. Podcasting has had to overcome that as an entire medium but it's something that's becoming ubiquitous.
What's your opinion on how MangaCast has developed throughout the year? What would you like to see in the future?
Jack Tse: MangaCast this year has been very interesting. Obviously I have been the new addition but I've noticed less content from people other than myself and Ed Chavez. So I'd like to see Jarred continue with his shows once he has finished moving and the MangaRecon to return. For a podcast that is published as regularly as MC, you want to see more of a variety. What I would like to see in the future is shows that have never been done before. I already have some up my sleeve that i have never even talked to Ed about yet!
Any interesting stories you would like to share?
Jack Tse: The most interesting story I suppose is that I was going to stop doing podcasts around the time of MangaBlogCast's creation. I actually told Erin at the Ninja Consultant anniversary party that I was retiring but then the MangaBlogCast started breathing new life into me. At that point I stopped caring about how I performed and I just relaxed and let it fly. Once that happened I got excited because I started sounding better. I'm still working at it and getting better but I think I'm comfortable with what I bring to the MangaCast.
Christian
Who are you? Please introduce yourself.
Christian: My name is Christian, and I'm a worker bee by day, artist and writer by night. I'm a big seinen enthusiast, although I can find manga of all types to enjoy. As far as my taste goes, I'm of the mind that there's Berserk...and then there's everything else. :)
How did you become part of MangaCast? What do you do at MangaCast?
Christian: I was a regular poster over on AnimeonDVD where Ed and Jarred are manga reviewers. Ed sent me a message explaining about MangaCast, and asked if I'd like to contribute and help maintain the community. I thought it was a great idea, so I was excited about it. As for what I do, I have to unfortunately admit that I've become more of a reader and listener these days due to a rather insane work schedule, but when I do contribute, it's in the form of text rather than podcasting.
What do you think of mixing podcasting with manga?
Christian: I think it's a great idea. With the way all the different media have come together on the Net, added in with the portability now offered by iPods and BlackBerries and the like, pretty much anyone can now get their voice heard. And because of that, it creates a way for people to get their thoughts and opinions out on any number of topics, no matter how niche they may be in relation to the mainstream. There's so much of a variety of topics out there to choose from, and I think the variety inherent in manga lends itself to being able to keep producing fresh and interesting podcasts. And speaking as a listener, I think the MangaCasters bring a genuine enthusiasm and love for the medium and a nice bit of knowledge to boot.
Please introduce us to your features.
Christian: Again, I just have to hang my head in shame with the level of participation I've given (sorry Ed!). When I have, it's been in the form of text reviews. Personally, especially in the current climate of censorship here in the States, my interest is more on the Japanese side of things, so I'm happiest reviewing tankoubon.
Any interesting stories you'd like to share?
Christian: I wish! Ed never invites me to the cool MangaCast parties! (I kid, I kid)
What are you planning to do in the future?
Christian: Contribute more! I have a few series I'd like to start reviewing soon (Vinland Saga, I'm looking at you), and I actually might just find the time to do it. I actually have to go back to college to finish some additional schooling for my degree, so I'm saying goodbye to 70 hour work weeks and hello to more manga reading time. The Kinokuniya by my school will probably greatly aid in achieving that (while hurting my poor wallet).
Guest Interview - Chris Beveridge

Please introduce yourself.
Chris Beveridge: My name is Chris Beveridge and I run the website www.animeondvd.com. We've been up and running for almost nine years now and started back when DVDs first came out, as should be obvious by our site name. In the last couple of years, we expanded into more manga coverage as that area shifted from being releases that were few and far between to the deluge that we see now and tried to apply some of our similar goals in that arena as we did with anime.
Do you actively follow the news/podcasts posted on MangaCast?
Chris Beveridge: Sadly, I'm old beyond old school, and I've simply not gotten into the entire podcast concept. A lot of that is simply due to a lack of time between running my own site and life itself.
MangaCast is run by Ed and Jarred, who are also staff of AoD, is AoD supports or is closely related to MangaCast in anyway? What do you think of MangaCast as a website run by your fellow staff members?
Chris Beveridge: There isn't any real direct relationship between the two other than my referencing their podcasts on occasion in the news when certain interviews or news come up in it. I subscribe to it myself since I love seeing all the artwork in an easy to read fashion though and get an idea of what kind of books may make their way over here someday.
Where do you think the future of the online community will be at a few years from now? Will these new technologies like podcasting and blogs become more popular?
Chris Beveridge: Like everything else on the Internet, I expect things like podcasting and blogs to be old hat within a couple of years and something else will be coming up to take its place. The advent of YouTube will be pushing the videoblog concept more and I think we'll see some interesting things happen there as the chance for some real interactive shows that are consumer driven will come up.
Whether they impact the mainstream though isn't quite as likely, but they'll gain traction in general. Blogs have done quite well in the last couple of years in the public eye but they're quickly becoming old hat to some and their influence is being balanced out some.
As a webmaster, do you think starting a new anime/manga website or community today is more difficult than it was 10 years ago? How would you like to see the online anime/manga scene develop in the next few years?
Chris Beveridge: The community has changed drastically over the last ten years and I'm really not sure of where it's going to go in the future. The advent of blogs and MySpace kind of places has been the death of fan created shrines and mini communities that deal with particular sub-genres or lesser known properties, which I think is really unfortunate. Fandom is more about instant gratification and what pleases me more, than developing a real long term appreciation for a show.
The next few years I expect more of a "corporate" influence in trying to create large scale portal sites that can attract more mainstream eyeballs while still trying to appeal to the hardcore, but there's always a level of animosity between fans and the corporate side that I expect will cause problems.
Will AoD try to create a closer relationship between itself and other smaller sites created by its staff?
Chris Beveridge: There's nothing like that on the radar in an official way; I like to think I do at least support them in their endeavours and am looking at ways to strengthen that.
Any last words to Ed and Jarred at MangaCast?
Chris Beveridge: Just that they need to come up with a buyout price so I can acquire them and make it all official. They've done some great work and their love of the medium really shines through in every aspect of what they do.