The Yomis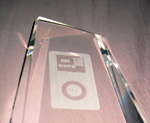 So Japan has their own Tezuka Award and their Kodansha Award, what about the U.S.? We have the Yomis of course! With the launch of the Yomis during 2006's SDCC, MangaCast has created one of the first manga-only award events in the U.S.
The nomination process is quite simple; users first nominate their favorite titles to each category. The titles which the most vote will go on to the second phase, where a panel of judges will choose the winner.
2005 Yomis Timeline
5/23 - "Awards Season Continues... and we need your help!"
6/1 - "MangaCast Awards (Yomi's) Final Nominees"
7/18 - "Maki Side Dish #6 - 2006 Yomi Preview Show"
7/21 - "SDCC 2006 - Viz Media (audio up!!!)"
7/28 - "Maki Side Dish - Looking Forward to the 2007 Yomi Award Show!"
1st Yomis
In the first Yomis, there were four main categories and one special award:
Best Publisher - North American publisher of Manga - licensed or original; English or Spanish
Winner: Viz Media
Best Shorts - English translated or OEL one-shot, anthology, collection of 4 panel manga
Winner: Sexy Voice & Robo by Kuroda Iou
Best Global Manga - Original title not made in Japan
Winner: Dramacon
Best Manga - Series released in North America has to have had at least two volumes released between July 2006 and June 2006
Winner: Fullmetal Alchemist by Arakawa Hiromu
Special Award - The most important thing that happened to manga in the last year (July 2005 and June 2006).
Winner: Del Rey & Viz do Mature Manga
1st Yomis Final Judges
Jarred Pine (MangaCast/Anime on DVD)
David Taylor (Love Manga)
Erin Finnegan (Ninja Consultant/Manga Recon)
Brigid Alverson (MangaBlog)
Adam Arnold (Seven Seas - Senior Editor/Writer for "Aoi House")
Brian Papp (Broccoli Books)
Tony Salvaggio (Comic Book Resources - Staff Writer)
Isaac Alexander (Convention Organizer)
Zoe A. (the MangaCast's first emailer)